Though corrugated boxes have undertaken many shapes and styles over the years, the material used for manufacturing these boxes, cardboard paper, is same and will hold its grip for the coming years as well. Today,cardboard cartons make up about half of the world's packaging materials spending.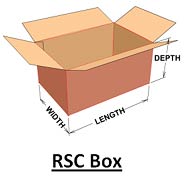 RSC shipping boxes
Regular slotted container (RSC) is the most efficient way of manufacturing a corrugated cardboard box. They are an ideal packaging option for products looking for cheap and basic shipping service. As seen in the image below, all flaps are about the same size. The two Outer flaps meet at the line that divides the carton's width equally. The space between the inner flaps is directly in proportion to the ratio of length and width of the box.
Structure
Corrugated RSC cartons are made of corrugated paperboard material. If you look at the periphery of the box, you will find multiple slim columns inside the paper. The columns store the air which acts as a cushioning and enhance the strength of the box. The durability of corrugated sheets varies based on the process followed to manufacture them. Many types of corrugated containers are produced by assembling a variety of cardboard paper, heat, pressure and adhesives.
Color
They are usually available in its natural orange-brown color, with four flaps on the top and bottom. Some RSC cartons are white painted on the outer sides, but the inner walls are usually Kraft brown in color. Regular slotted cardboard boxes are in high-demand these days for packaging. If you are a business who is looking for printed RSC cartons, resort to online suppliers as they offer quality products and largest variety of designs at the lowest rate possible.
Cost
Regular slotted cartons are the most economical option for manufacturers and customers, as it can be used to ship all types and size of products, from light-weight to heavy-weight. RSC shipper boxes are made of recyclable cardboard paper, meaning they can be reused again. No hidden cost involved, but will need stapling, gluing and taping to complete packing.
Packaging
If you want to place any fragile item in the Regular slotted box, a fill-in pad, usually made of foam material, is positioned in between the two inner flaps. The fill-in pad functions as a cushion for the item and absorbs the shocks generated during manhandling. Corrugated fiberboard is placed over the top surface or bottom of the item.
Cactus Containers is a supplier of RSC boxes, tailor-made to your needs. The boxes are made of different material which can be printed and shaped easily. RSC shipping and storage boxes are available in varying depths, so they can be used in storing articles of all sizes. Custom-made corrugated display boxes are used for showcasing items in various stores.
Visit Cactus Containers. Your ideal corrugated RSC boxes are just a click away!