Tote Boxes
Tote boxes are easy to fold with a snap lock bottom. You don't need to use a tape or glue to seal them. They ship flat.
Can be custom printed anyway you like and can be made extra heavy duty.
They are great for use in retail stores, outlets or for promotions and trade shows.
Box Prices
Boxes are priced based on the following:
Quantity (small quantities higher price, larger quantities the lower the price per box)
Style
Material
Print methods and quality
Tooling (printing plates, cutting dies, etc.)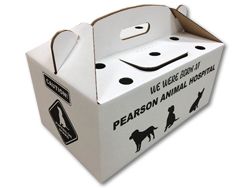 Click to zoom in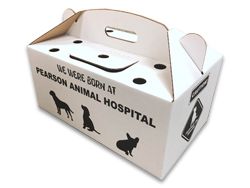 Box Type: Tote box – Cat and dog carrier
Material: White B Flute, Die cut
Printing: 1 Color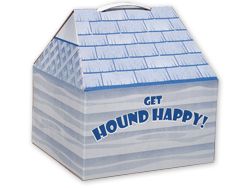 Click to zoom in
Box Type: Tote box for pets supplies used in retail with a plastic handle
Material: White B Flute, Die cut
Printing: 1 Color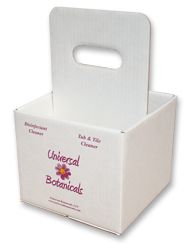 Click to zoom in
Box Type: Tote box – 4 pack carrying case for cleaning supplies
Material: White B Flute, Die cut
Printing: 2 Color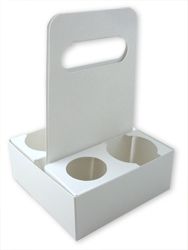 Click to zoom in
Box Type: Tote box – Drink and food carrier for special event
Material: 24 pt white chipboard, Die cut
Printing: None