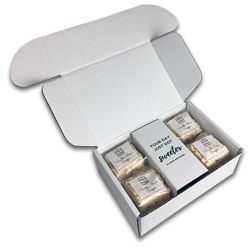 Do you need a small shipping box?  If you have a small item, sometimes it is all you need from a shipping box supplier.
When shopping around for boxes you can use to package your products or send out shipments, you will find that there are limited standard box sizes in the market. While easy to find, they often do not conform well to the dimensions of various products and orders to be delivered. They can often be too large or small for the job. As a result, additional packaging materials like filler will be used to fill up empty spaces and tape applied to hold the box intact if there are bulges. Here is why you should opt for a shipping box supplier that can customize your small shipping box. 
Small Shipping Box Protects Small Items Better
When the contents of a box are so small to leave large empty spaces, there is an increased risk the contents will shift around while in transit. Knocking about can make it easier for the contents to be damaged. If too tight and with bulges, the packaging may fall apart, leaving some of the contents exposed and vulnerable to injury or contamination.  
Small Shipping Box Cuts Cost
When you have custom packaging that correctly fits the contents within, you will likely save on costs. A small shipping box of the right size will cost less than a larger box as less material goes into construction. The smaller dimensions may also impact shipping costs as weight and size are both considered in pricing the service.  
Environmentally Friendly Shipping Box Supplier 
It is eco-friendly to limit your use of shipping boxes to just what is needed. Shipping boxes are made of pulp that comes from trees. The less you make use of these sources, the lower the carbon footprint you leave behind. Do also consider engaging a shipping box supplier that uses recyclable materials in production. This is another way to limit waste and protect the environment.  
Better Stock Levels
When you customize your box needs, you do not need to rely on standard sizes as much. Those that rely on standard sizes often have to stock a wide variety of boxes as an estimate of what may be needed. when you customize your boxes to conform to the size of your products you can limit your stock levels better and not have to waste much space for storage.  
Happier Customers
Customers often look forward to the unboxing experience. This event can however be less enjoyable if the packaging is poorly done. Even if the box is larger, it can be disappointing to realize the contents are so much smaller. Right sizing your packaging is a good way to temper expectations and improve the chances the contents will arrive intact.