There are many reasons to want to send a gift box. It could be to a loved one or in appreciation of a beneficial business relationship. Whatever the reason behind it, you will want to be assured that the contents in the gift box arrive at their destination in good condition so the recipient can well appreciate the thought and effort that went into the gift-giving. However, the safe arrival of your gift is mostly dependent on the choices you make as the gift giver in preparing and sending the parcel on its way. Here are a few things you can do to safeguard your gift and ensure it arrives in pristine condition. 
Gift Box Perfect Size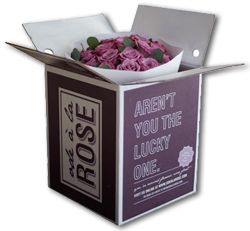 Always ensure the gift boxes you use are neither too small, nor too big for the items that will be packed within. Choosing a box of an appropriate size will better protect the contents within as they will not be left with so much room to rattle around in, nor have to be boxed so tight they may be in danger of bursting out the confines of the box while in transit.  
The Best Gift Box Packing Materials
Most items are rarely in the exact shape of the box they are contained in. Even with a right-sized box, there may be some small space that is left empty. Some small space is ideal in many cases so you can pad the interior and provide better security for the contents. Make use of packing materials like bubble wrap and packing peanuts to fill up these gaps.  
If the item being gifted also has a hollow space, like with a wine glass, also be sure to fill this up. It further adds to the protection of breakable items. This can also often provide good insulation that some items that are vulnerable to temperature change may be affected by. Choosing eco-friendly packing materials is also a good way to protect the environment while remaining corporate responsible. 
Label the Gift Box Right
Label the gift box properly so that those handling it along the way know there is a delicate item within. You can have your box maker incorporate symbols for this in the box design. Alternatively, you can make the labels yourself and make sure they are prominently displayed before shipping.  
Track Your Parcel
To ensure your gift is on its way to its recipient and arrives in good time, choose a shipper that provides tracking services. The service usually does not cost any extra amount. It will allow you to check on progress at any time and do follow up if there is a problem. There should also be confirmation made when the final delivery is made.