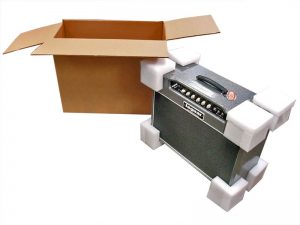 Online shopping has made it easier for people to get whatever they want from the comfort of their homes. No more need to spend hours wandering through different stores to find the right item. Now all that is required is access to the internet and the considered choice of search keywords. E-commerce has also helped as even small and medium-sized businesses can afford to make their wares available online.
It can however be tricky to sell fragile items online. This is mainly due to their delicate nature which means they can be easily damaged during shipping. If damaged, the business may remain liable and have to replace the item at their own cost. This can prove expensive and even damage their reputation. Even with packing these items in corrugate cartons, a little extra care has to be taken to increase the chances the items will arrive in optimal condition.
Choose The Right Box
When packing even fragile items, you need to ensure the right size and type of box. It needs to be a good fit that will not allow the contents to shift. And if heavy and fragile, you need to consider the thickness of the box walls. They should have enough fluting to ensure sound protection, but not so much as to add unnecessary cost to shipping.
Use Filler
Even with a well-fitting box, some items can have an odd shape that will leave voids within the cardboard cartons. Fragile items should be kept in a fixed position within the box. Hence the need to fill up this empty space and reduce the risk of damage. There are different packing materials you can use for this including packing peanuts and old newspaper.
However, for the best immobilization, you may want to consider foam or cardboard inserts. These are customized to fit the exact shape of the items and work best in securing them. Be sure to choose eco-friendly packing materials that are functional yet sustainable.
Labeling
It can also help to ensure your box is properly labeled. This will allow handlers to know that the contents are fragile and that they should take necessary precautions to avoid damage. Many stickers can also be applied, with captions such as "fragile", "this end up", and "keep refrigerated" being commonly used. If shipping internationally, you may want to consider labels that share the same message in different languages to ensure proper handling all the way.
Moisture Protection
Cardboard cartons can easily lose structural integrity if they come in contact with liquids. To help prevent such interference that could damage contents, it helps to create a barrier between the carton and such external threats. Judicious application of packaging tape can help here. You can also opt to include the use of vermiculite that helps absorb moisture and absorb impacts.