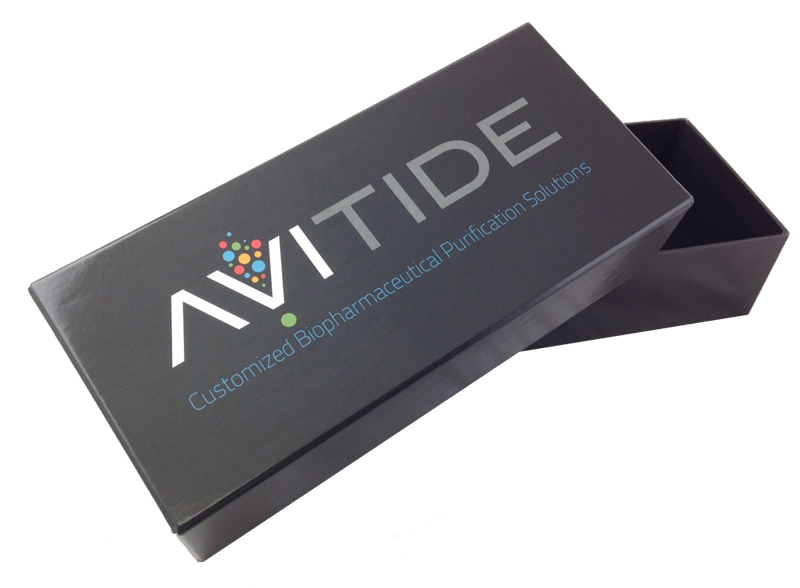 Graphics are able to make or break a setup box. Add a one-color, simple line art logo or four-color, vibrant photo image to the box. Cactus Containers provides foil stamping, process printing, as well as embossing for the set up box, both inside and out. In addition, aqueous, varnish, UV coatings, as well as film lamination may be added if necessary. The choices for a box are only limited by the imagination.
Process Printing
It's possible to add graphics to the custom setup boxes using conventional printing. One or two-color line art upon colored or white paper is the most cost effective method. However, it is the four-color, rich process, photo images on a box which will catch a consumers' eye.
Foil Stamping
Add an appearance of distinction to the setup box using foil stamping. With foil stamping, it is possible to accomplish a brilliance which can't be copied with ink. A broad array of gloss, matte, holographic, or metallic foils are available. Blend the ideal foil shade with one of thousands of patterned, colored, or theme papers in order to achieve an appearance which matches a corporate image.
Embossing
With embossing, Cactus Containers is able to add texture by raising the graphics off of the box. It's possible to add any shiny or pigmented foil stamping atop the embossing, or you can keep it "blind" for an elegant, classic look. Blind embossing includes the development of a raised image which isn't foil stamped, and resulting raised image will be the same exact color as the paper. Make a picture through texture using blind embossing. Embossing a box is going to add class and value.
Coatings
It is possible to add a protection layer or a matte or gloss finish to the setup box by coating a printed wrap. Options of coatings involve aqueous, varnish, film or UV lamination. For simplistic logos, varnish oftentimes will add enough additional protection to keep the printing from rubbing off set up boxes. Aqueous coating will be a harder coating and provides the protection required on heavier print coverage. UV coating will really make a difference by making images pop off of the paper. Film lamination can be used to offer protection when no additional coating will do.
Adding graphics increases a product's value, communicates product details, establishes brand recognition, conveys a marketing message, and separates your product from the competitions'. Why should you settle for a plain 'ol "box", when graphics may be added for a minimal fee to make an excellent "package"!