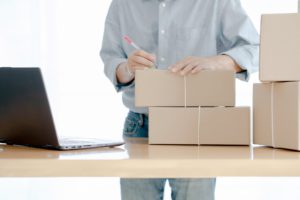 With people now increasingly opting to make purchases online, more businesses are being forced to expand into e-commerce to remain competitive. Even with brands that have been staples, it is easy to lose customers if you do not make it possible for them to buy online. However, with online businesses, there is the added cost of shipping to cover. Here are a few ways businesses expanding in this way can keep these costs low through consideration of their shipping & packing materials.
Optimize Box Sizing
It is important to make use of boxes that just fit the contents. The smaller the box, the lower the shipping costs. Shipping companies now factor in size alongside weight when determining shipping costs. Minimizing this aspect helps lower overall shipping costs. Having a good variety of box sizes to work with can help limit this problem.
Packing Safety
Be considerate of the products you are shipping and how best to safely pack them. The more delicate the contents of the box, the more effort you should put towards ensuring they are not damaged in transit. This can mean having to use inserts, filler shipping supplies, and labeling the box as fragile. Keep in mind that if the contents are damaged, you may need to ship again at your own cost, making the transaction less profitable to the business. For more durable products like clothing and books, you can use cheaper packaging options.
Low-Cost Customization
There are various ways you can customize your box design so that it reduces the overall cost of shipping supplies. For instance, instead of making separate labels, you can have the box manufacturer directly print whatever graphics or information you want to communicate on the box. You can also customize the box dimensions to better fit the product, thereby further reducing shipping costs. Keep an eye on new technologies like recycled cardboard that can be used at a lower cost to make boxes. When new kinds of shipping & packing materials come up, sample them to see what effect they may have on your expenses.
Pick and Pack Fulfillment
Where your business tends to receive many orders from distant zones, you may want to consider adopting the pick and pack system. This allows for orders to be fulfilled from warehouses that stock your products at different locations. They become part of the online ordering system and are able to deliver products to clients at a faster rate and lower cost.