Corrugated Cardboard Types
It is very important to know the type of cardboard that you will require when ordering your boxes. There are two factors to consider when choosing the type of cardboard – the flute and the wall construction.
Flutes
When dealing with differing types and styles of cardboard, we often refer to its flute, or flutes. What is a flute? Well, it simply means the type of corrugation that is sandwiched between the two outer layers of cardboard. The larger the flute, the stronger the box. Below is a small break down of the three types of flute that we offer at Cactus Containers and their respective strengths and weaknesses.

"C" Flute
Thickness = 11 / 64″
Flutes per foot = 41
"C" flute cardboard has a very high stacking strength and a higher resistance to being crushed. It is one of the most commonly used flutes for shipping boxes and tends to perform the best when holding materials such as glass, furniture and food products.

"B" Flute
Thickness = 1 / 8″
Flutes per foot = 49
"B" Flute cardboard is the perfect combination of strength and style. It has a higher resistance to punctures than the other flutes and usually consumes less space than the regular "C" Flute. It is most often used for boxes that have to be durable but also need to have some style. Generally used for stand up displays or ballot boxes.

"E" Flute
Thickness = 1 / 16″
Flutes per foot = 95
"E" Flute is the most lightweight of all the types of corrugated cardboard we carry. It is a stronger alternative to paperboard and performs great when used for die cut designs. "E" Flute has a superior printing surface and works best when used as software packaging or point of purchase boxes.
Cardboard Wall Construction
Although most people think that cardboard boxes have only one type of structure there are actually two different styles of wall structure that we offer to our customers. Depending on which characteristics and qualities you would like to have in your box, you can choose from single or double wall structure.
Single Wall Corrugated Cardboard
This is the most popular corrugation material used in the boxes we manufacture, it consists of only one layer of whichever type of flute you pick. It is available in a wide range of board strengths, from 23 ECT right through to 44 ECT. Generally, depending on what type of flute you have chosen, this type of wall structure is not the best choice for shipping heavy objects.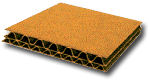 Double Wall Corrugated Cardboard
This wall structure is made of one layer of "B" Flute and one layer of "C" Flute. Stronger than a single wall structure, double wall enables heavier objects to be shipped and should be used when a stronger box or extra padding is needed. Double wall is available in 48 ECT to 71 ECT and is excellent for stacking heavier items.